Helping Create a Culture Free of Modern Day Slavery
Trafficking in America Task Force is a 501(c)3 nonprofit, Tax ID: 32-0495587. Your contribution is fully tax-deductible in the USA.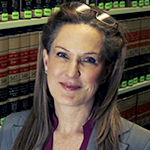 Wendy J. Murphy
Adjunct Professor of Sexual Violence Law at New England Law|Boston

For more than fifteen years, Wendy Murphy has served as adjunct professor of sexual violence law at New England Law|Boston, where she also co-directs the Women's and Children's Advocacy Project (WCAP) under the Center for Law and Social Responsibility. WCAP runs the Judicial Language Project, which entails students using sociolinguistic research to critique the language used in law and society to describe violence against women and children. WCAP also writes amicus briefs, and engages in public interest litigation to advance the rights of women and children.
In addition, WCAP runs the JD/PhD project which brings together a JD student and PhD student, who work across disciplines to critique the methodological reliability of scientific research to either enhance or prevent its admissibility in legal proceedings, hence its impact on law, policy and human behavior.
On January 7, 2020, WCAP filed a federal lawsuit in the United States District Court for the District of Massachusetts to ensure validation of the Equal Rights Amendment (ERA) in the aftermath of ratification by Virginia as the 38th and last state needed to add the ERA as the 28th Amendment to the United States Constitution.
A Visiting Scholar at Harvard Law School from 2002-03, Wendy also served as the Mary Joe Frug Assistant Professor of Law at New England Law|Boston from 2001-2002. Wendy prosecuted child abuse and sex crimes cases for several years, during which time she observed systematic discrimination and injustices against victimized women and children which, in 1992, led her to form the first legal organization in the nation to provide pro bono legal services to victims of violence involved in the criminal justice system.
Wendy is an impact litigator whose work in state and federal courts has changed the law to better protect the constitutional and civil rights of abused women and children. Wendy writes and lectures widely on the constitutional and civil rights of women and children, and criminal justice policy. She is also a columnist for the Boston Herald.

​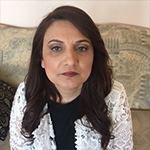 Mandy Sanghera
International Human Rights Activist

Mandy is a driven and passionate international human rights activist and motivational TEDx speaker from the United Kingdom. She is also an award-winning philanthropist, community consultant, global campaigner and is often referred to as a global catalyst.
Mandy has traveled all over the world in her tireless effort to empower and motivate others and with over three decades of experience, she is an expert in various development related fields.
Through her efforts, Mandy has been driving innovation, building strategic partnerships, promoting advocacy and programming in the areas of human rights, gender equality, accountability and social justice globally. Mandy has helped hundreds of individuals and now reaches thousands through social media and her prolific worldwide TV appearances and public speaking engagements.
In November 2019, she spoke at the United States House of Representatives for the 3rd year in a row and attended the World Economic Forum in Davos-Klosters, Switzerland where she spoke at several events.



Laura J. Lederer
President & Founder Global Centurion

Laura founded and directed The Protection Project at Harvard University's John F. Kennedy School of Government in 1997. From 2001 to 2009, she served as Senior Advisor on Trafficking in Persons to Under Secretary of State for Democracy and Global Affairs, Paula J. Dobriansky, and then Senior Director of Global Projects in the Office to Monitor and Combat Trafficking in Persons at the U.S. Department of State.
From 2001 to 2009, she was also the Executive Director of the Senior Policy Operating Group on Trafficking in Persons, a high-level policy group that staffed the President's cabinet-level Inter-agency Task Force on Trafficking in Persons. In 2010, Ms. Lederer founded Global Centurion, a non-profit organization dedicated to eradicating modern slavery by focusing on the demand side of the problem – the perpetrators, exploiters, buyers, and end-users of human beings, seeking to prevent modern slavery at its source.
Under her leadership, Global Centurion has developed significant demand-focused research and programs, including sector specific trainings for the U.S. Department of Defense; designed and conducted innovative research on the health consequences of human trafficking and on the link between organized crime and human trafficking; provided cutting-edge education, awareness and advocacy training to communities, civic leaders, NGOs, law enforcement and at-risk populations; and established partnerships and collaborative networks to respond to modern slavery.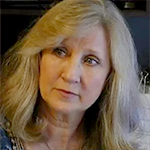 Yvonne Williams
Co-founder and President of Network for Cultural Change
Yvonne is the co-founder and President of Network for Cultural Change a 501c3 non-profit charitable organization. Yvonne is also a professional artist and writer. She has written and had articles published in numerous publications and is an author and screenwriter. Some book titles include: Slaves of a Different Kind: Unshackling Our Soul to Heal America; Proponents of Peace; My Father's Garden – A Tribute to Step-Fathers; My Daily Garden Journal; There's a Flower in the Garbage; My Daily Garden Journal; Getting to Know God Through the Power of Prayer; And the Angels Danced; and A Dance For Bethany which is also a 4-time award winning Feature Film about a 12-year-old runaway rescued out of a life of sex slavery and into her dream of becoming a dancer. This is the story that changed her life.
Since learning in 2004 of the sex trafficking problem that plagues not only America but the entire globe, Yvonne and Marion have worked to educate people and make them aware of the tragedy. The story of A Dance For Bethany proves one person really can make a difference and is now seen in the Czech-Republic, Middle East, and South Africa where it was launched to combat sex trafficking in South Africa.



Boz Tchividjian
GRACE Founder and Professor of Law, Virginia
Professor Boz Tchividjian is a former child abuse prosecutor who currently teaches Child Abuse and the Law and several other courses at Liberty University School of Law.
As a prosecutor for over eight years, Professor Tchividjian created the first "Crimes Against Children" division at the Office of the State Attorney in the 7th Judicial Circuit of Florida. As division chief, Professor Tchividjian was personally responsible for prosecuting hundreds of cases of child sexual abuse. He has spent over 17 years using what he learned as a prosecutor to train and equip prosecutors, investigators, social workers, and medical personnel in handling various aspects of child sexual abuse prosecutions.
As the founder and executive director of GRACE (Godly Response to Abuse in the Christian Environment – www.netgrace.org). GRACE is an organization that educates and equips faith communities to correctly respond to sexual abuse disclosures, while also providing practical guidance on how to protect children and serve survivors. GRACE provides confidential consultations to churches, schools, & other organizations that are struggling to understand abuse related issues. GRACE also assists institutions and abuse survivors by providing independent investigation services.
Professor Tchividjian is an expert on issues related to child abuse and child protection. He used to write a column for Religion News Service entitled, "Rhymes with Religion" that focused on the intersection of abuse and faith communities. His column can be found at www.netgrace.org. Professor Tchividjian is also the author of a Mini Book entitled, Protecting Children from Abuse at Church: Steps to Prevent and Respond (2013 New Growth Press).
Professor Tchividjian has also authored numerous law journal articles related to the issue of child sexual abuse. His most recent article entitled, Catching American Sex Offenders Overseas: A Proposal for a Federal Mandated Reporting Law, was published in the 2015 spring edition of the UMKC Law Review.
Professor Tchividjian is the 3rd eldest grandchild of Reverend Billy Graham and is the co-author of a recently published a book entitled, Thank You, Billy (2014 Barbour Publishing).



Michael E. Reagan
Michael is the son of former President Ronald Reagan and Academy Award winning actress, Jane Wyman. He authored many successful books, including his best-selling autobiography, "On the Outside Looking In," and "The Common Sense of An Uncommon Man: The Wit, Wisdom and Eternal Optimism of Ronald Reagan." His book "Twice Adopted" is based on his personal story while his latest book "The New Reagan Revolution" reveals new insights into the life, thoughts, and actions of the man who changed the world during the 1980s.
He is a popular national speaker on issues related to conservative politics, adoption, and the life lessons he learned from his parents. Michael hosted a live radio show for over 26 years, which was the first nationally syndicated long form political talk show presented by Premiere Radio Networks.
Michael is also the founder and chairman of The Reagan Group, LLC. All of his activities are brought together at www.reagan.com.Throughout his career, Michael has taken time to support numerous charitable organizations. In addition to his role as president of The Reagan Legacy Foundation, he serves on the board of The John Douglas French Alzheimer's Foundation, and is a board member and the national spokesperson for My Stuff Bags Foundation. This unique program addresses some of the immediate physical and emotional needs of children rescued from abuse and neglect.
In 2005, he established the Michael Reagan Center for Advocacy and Research in partnership with Arrow Child and Family Ministries. The center operates from a Christian worldview and conducts research in order to effectively advocate for public policies that benefit the safety, stability and well-being of children and families, particularly those served by public and private child welfare systems.
Michael has raised millions of dollars for many other notable charities including United States Olympic Team, Cystic Fibrosis, Juvenile Diabetes Foundations, the Statue of Liberty Restoration Fund, the Santa Barbara and San Diego Navy Leagues, and the San Diego Armed Services YMCA. Michael was honored by the Atlas Economic Research Foundation as the first Templeton Leadership Fellow for 2009-2010. The Atlas Economic Research Foundation serves as a catalyst and connector to link free-market organizations and individuals to the ideas, people and resources they need to promote a free society. Since 1981, Atlas has been instrumental in creating and nurturing an international network of free-market public policy institutes; free market university-based academic centers and a cadre of individuals committed to achieving a free society.
Michael has been married to his wife Colleen since 1975, and they have two grown children. A son Cameron, born in 1978, and a daughter Ashley, born in 1983, while her grandfather was in the White House.



Sean D. Reyes
Utah's 21st Attorney General
Elected to a full term in November of 2016, Sean Reyes has been Utah Attorney General since his appointment on December 30, 2013 by Governor Gary R. Herbert. As a member of the National Attorneys General Association Reyes co-chairs the Human Trafficking Committee, co-chaired the Civil Rights Committee from 2015–16, and currently sits on the Consumer Protection, Law Enforcement, Federalism, Internet Safety/Privacy, and Veterans Affairs Committees. Since his reelection in 2016, Reyes has also been an active leader as a member of the Conference of Western Attorneys General having most recently hosted and keynoted at the CWAG Cyber Security and Technology Forum in February 2017.
Reyes continues to extend his role as Utah Attorney General to advocate for anti-bullying and educate on teen suicide. Most recently, he and his office team worked closely with Utah state legislators and the University of Utah's University Neuropsychiatric Institute (UNI) to develop SafeUT the crisis text and tip line app for Apple and Android mobile devices that is offered as a statewide service to provide real-time crisis intervention to youth through texting and a confidential tip program. In February 2016, Reyes was ranked 21st on Newsmax's list of the top 50 Most Influential Latino Republicans.
Reyes and his wife, Saysha, currently live in Cottonwood Heights and are the proud parents of 6 children between the ages of 4 and 16. In his free time, he enjoys playing morning basketball, coaching his kids in youth football, baseball, basketball, volleyball and soccer, taking walks or doing anything with Saysha, watching Sports Center, attending and speaking at Comic Cons, as well as cooking, shooting guns and watching mixed martial arts (now that his fighting days are over).



Lee Bagdasarian Rech
Founder of LBR Communications
Lee founded LBR Communications in 1996 and is responsible for the overall strategic direction, growth, and management of the company. Building on her more than 20 years of marketing/public relations, professional documentation, and technical writing experience, Lee created LBR Communications to provide her business, non-profit and political clients with a greater value proposition for their communications and development needs than they could derive from a larger, less customer service-focused agency. Her results-oriented drive and affable nature ensure every LBR client achieves their PR and development objectives, no matter the desired result.
During her tenure as owner and president of LBR Communications, Lee has supported a variety of businesses with superior public relations and marketing strategy support including PatchLink Corporation (now Lumension Security™), an enterprise patch management company, where for six years she and colleague Melissa Clyne achieved and secured numerous media/analyst relations successes and relationships culminating in the company's ability to secure $35 million in funding in August 2004 and subsequently grow the business worldwide. After successfully supporting PatchLink's public relations efforts through a merger and buyout, LBR Communications helped launch and market CellTrust Secure Mobile in 2005. Today, CellTrust is a global leader in secure collaborative mobile communication and mobile aggregation for healthcare, government, financial services and enterprise across 200+ countries and over 800 carriers and mobile operators worldwide.
Other professional public relations and writing achievements as the owner of LBR Communications include several featured and by-lined articles for clients including article placements in IT SECURITY, Cyber Defense Magazine, Certification Magazine, Network World, Symposium, Construction Excellence; as well as editorial placement for clients in trades, dailies, as well as national consumer and business publications and segments on TV including Arizona Republic, Federal Computer Week, Government Computer News, Chronicle of Higher Education, Education Technology News, Forbes.com, The Wall Street Journal, New York Times, Salt Lake Tribune, Deseret News, Utah Business, The Provo Herald, Salt Lake Magazine, The Standard-Examiner, Phoenix Business Journal, OC Register, Bloomberg, Fox13, KUTV Channel 2 (CBS affiliate), ABC4, KSL TV Channel 5 (NBC affiliate), FNC, among others.
Current and past clients include: Utah Attorney General Sean Reyes, Packsize International, Mity Inc., Zaniac, Hess, Nooter Construction, TheFormTool, CellTrust Secure Mobile, women's suffrage anniversary celebration and leadership advocacy non-profit Better Days 2020.com, Pioneer Day Raft and Run, among other clients spanning both non-profit and for-profit sectors.
Lee received her master's degree in literature from King's College, University of London and holds a bachelor's degree from Denison University.