"I have spent my life supporting and advocating on behalf of victims of abuse. For me there was no choice other than to do the right thing." – Activist Mandy Sanghera
Allegations against UN youth department official Ravi Karkara have taken the institutions headquarters by storm, especially after a detailed report in Newsweek. In what has been a long and ongoing investigation, Karkara has been allegedly accused of sexual misconduct and abuse of power. There are camps, some who support Karkara and others who have been at the forefront of sharing detailed information on Karkara's sexual misbehaviour. In this investigation and reportage, many UN personalities have been named. SheThePeople's Shaili Chopra conducted a written interview with Mandy Sanghera and Kerry Gibson who have alleged Karkara blocked opportunities that came their way and have spoken out on behalf of victims who suffered Karkara's behaviour. Mandy and Kerry are not in contract or employed by the UN but are officially involved in the investigation against Karkara. In their own words, Mandy and Kerry were give the title of Planet 50-50 champions by deputy director Lakshmi Puri and were 'asked to volunteer time in the interest of advancing equality.' Their claim of being Planet 50-50 champions is being contested by a member of the UN Task force, who sent a direct message on Twitter to SheThePeople, after reading this article.
Mandy, what specifically have been your interactions with Ravi Karkara and how would you say he sexually exploited the situation? Kerry if you could share the same.
Mandy Sanghera: I have spoken at the UN several times over the years and sometimes alongside Ravi. At first you found him to be charming etc. Last year at CSW I heard a lot of rumours regarding his interest in boys. Later on one victim spoke to me and I did a statement. A lot of the rumours were about abuse of power and control.
Kerry: Ravi requested that I help develop Partnerships within Canada. He had reached out a couple of years ago hearing of other philanthropic work I had completed. He had big goals in mind for Canada, Canadian funding, and possibly a Canadian future for himself. Unfortunately, his professional demeanour was not acceptable and so I had filed a formal complaint addressing and asking for systems to be put in place so that harassment, bullying, gas lighting, and other behaviours would not be part of the business culture of our workings. This complaint led to the awareness that there were darker issues regarding sexual impropriety toward youth when the first victim, Steve Lee, brought his own experiences to my attention when I was questioning the history of these behaviours.
Mandy, why did you choose to speak up now and what kind of sexual crimes would you say Ravi was allegedly involved in?
I have spent my life supporting and advocating on behalf of victims of abuse. For me there was no choice other than to do the right thing. I have been involved with Kerry from the state. We have always done the right thing. We couldn't continue turning a blind eye to Ravi's abuse. For me it was about safeguarding. We need to learn and never let this happen again. Predators like Ravi cannot have access to children and we need this to be dealt with correctly.
Mandy and Kerry, what kind of rethink is required to make institutions like UN alert to such situations and have stronger rules in place to deal with people like Karkara?
Mandy: We need the investigations to conclude. We need justice for the boys. We want other victims to come forward, especially from India. We can help protect their identity.
Kerry: I think the United Nations in some ways has its hands tied. I think they need to break free of these bonds, they need to take stronger more forthright approaches to addressing such crimes within its system. The time has come to not be concerned with potential litigation however encourage swift due process for the sake of both the wrongdoer and the victims.
Structure must be created to allow whistleblowers to come forward without fear of recrimination, exclusion, or reprimand with the purpose of working toward the creation of a better organization.
Mandy, would you be able to elaborate context of how you and Kerry worked together and how you both have stood in the face of this?
Mandy: We are Planet 50-50 champions. We worked together on the UN Women Champions to end early child marriage. We were in Vancouver together last year (picture below). We have worked together on several other campaigns for international women's day this year as well. We both have made official statements to the ongoing enquiry.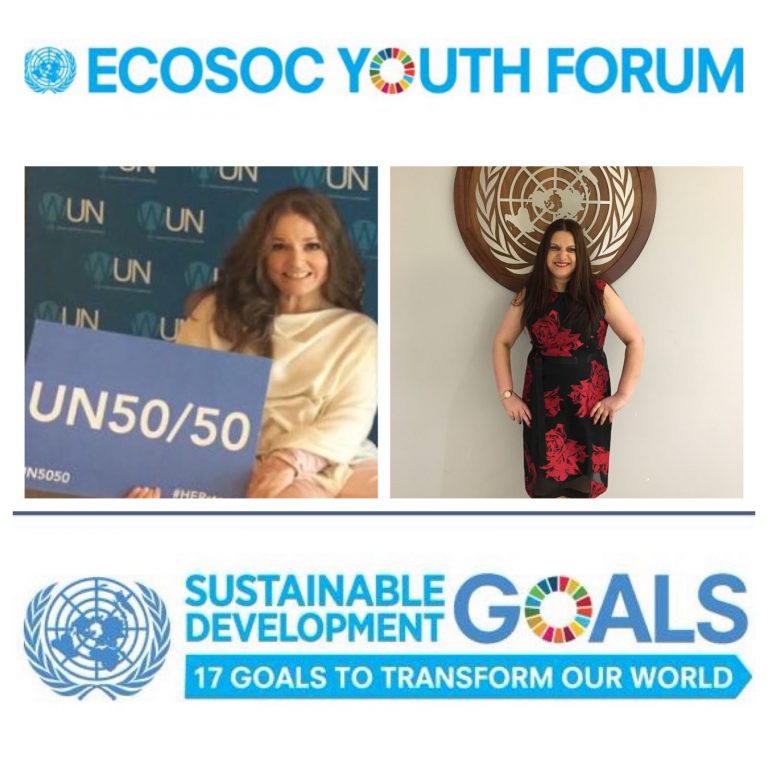 Kerry and I have both been victims of Ravi's 'gas lighting' (is defined as a manipulation tactic used to gain power) and bad mouthing us. It has been a defamation of the charter. He has tried to block opportunities and tried others to 'ghost' us. However we continued to hold our nerve.
We are both women in our 40s with long careers and great reputations. We were not scared by his bullying. We had to take a stand and lead the way.
How would you say the reaction was when you first brought this up? What kind of resistance did you face?
Mandy: It was very difficult at the beginning. Ravi thought I reported him for gas lighting etc. He turned a lot of people against me. He was very powerful within the UN and had a lot of contacts. Ms Puri (Ms Lakshmi Puri) always supported him. [This is a claim SheThePeople is unable to independently verify.] I held my nerve as I knew the truth. Sometimes doing nothing is not a choice.
How has it been since you both spoke up? With respect to your work with the institution?
Kerry: Mandy and I have been both involved with the organization at different levels in different departments. I was honored to speak at ECOSOC this year as a representative of the private sector due to my experience in Economic Development. However, it has recently been my experience when attempting to access information for feminist work outside the UN that UN Women have not been forthcoming. It is my sincere belief that to achieve the 2030 agenda we must work in unison, sharing resources freely and without bias.
The UN Women has put out a statement regarding this case and it reads as follows:
The investigation into allegations of sexual misconduct involving a UN Women staff member by the Office of Audit and Investigations (OAI) of UNDP is nearing its completion and UN Women continues to urge for the speedy finalization of the investigation process.
UN Women continues to ensure that the case is investigated thoroughly and receiving the priority it deserves. We recognize the gravity with which such cases should be treated and have taken the allegations very seriously at every stage.
Ending all forms of sexual and gender-based violence is at the heart of UN Women's mission. More HERE.